Woooooooooo!
Watching the results of the Presidential and local state (WI) elections last night, I was definitely surprised by the results.
I guess I should thank most of the country, and Wisconsin, for not being a complete bunch of idiots this election.
THANKS!
I also posted the following tweet last night:
https://twitter.com/sparxmind/status/266012438439264257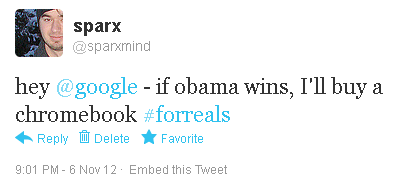 and last night at 11:09pm I ordered the Samsung Chromebook (Wi-Fi, 11.6-Inch)
from Amazon – unfortunately it's still backordered, so I have no idea when I'll actually get it.